[vc_row][vc_column][vc_column_text]

Merahoardings.com Provides Outdoor Advertising Services Over a Unified Online Marketplace for Booking and Selling Hoarding Advertising. Our Core Team is Dedicated Towards Reducing the Complexity on all Sides of the Out of Home Business, which Arises from Fragmented Nature of the Current Outdoor Advertising Environment. Our Outdoor Advertising online Booking Marketplace Delivers Low-cost, Scalable, Secure and Robust Solutions. It Gives Media Buyers an Efficient Price Discovery Mechanism, while Allowing Sellers to Increase Reach and Bookings.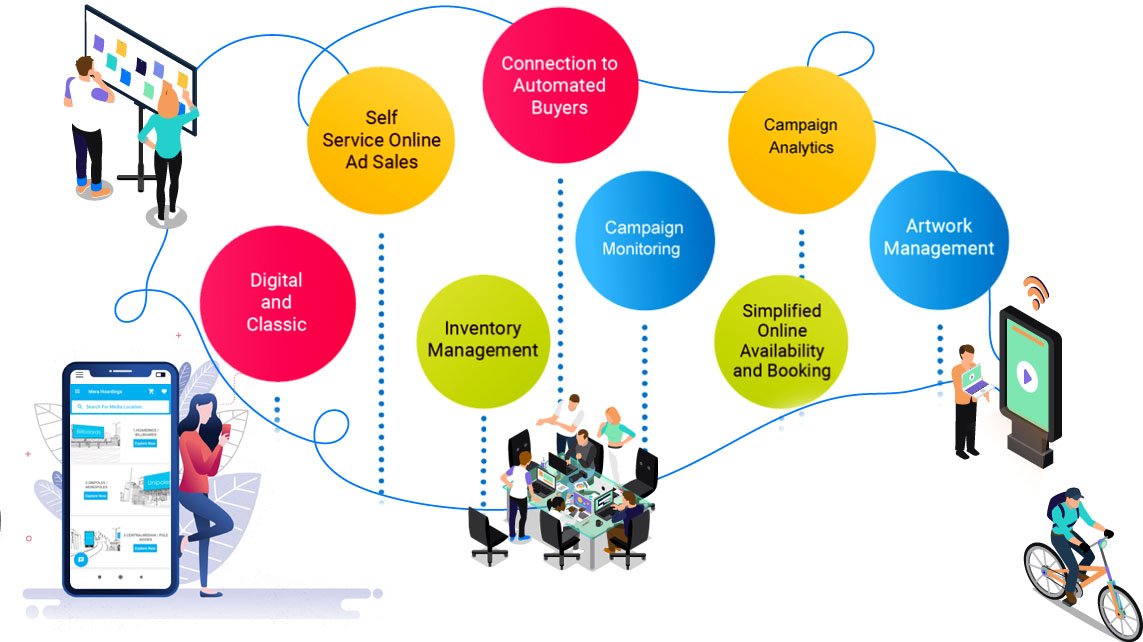 Nowadays, Most of the (SME's) Small and Medium Companies Stay on a Lookout for Outdoor Advertising Agencies, Because Finding Outdoor Media Resources Immediately to Serve Their Purpose while Meeting Budget Constraints has Become Difficult.  This is where Merahoarding.com, the Online Booking Web Portal and Mobile APP Marketplace for Out of Home Media steps in, Simplifying Procedures for Booking Vacant Hoarding Spaces Over its Easy to Use Online Portal.
PLANNING:
Our Planning Involves Several Areas of Expertise That Outdoor Media Planners Use to Achieve their out of home Campaign Objectives.
DEVELOPMENT:
Our Outdoor Campaign Monitoring and Analytics Processes Take an Active Role in Disseminating Information and Options Available for our Buyer's, and Strategically Places Billboards.
EFFECTIVE STRATEGIES:
Choosing which Type of Outdoor Media to Use is Sometimes Tricky for SMEs firms with Limited Budgets. Our 360 Degree Cost Effective Strategies may Sufficiently Cover a Medium and Startup Companies' Audience. We have a Multitude of Outdoor Advertising Solutions, all of which Offer their Own Unique Impact – Hoardings, Billboards, Unipoles, Flyover Spans, Gantries, Arches, Road Medians (Lollypops), Dooh,  Bus Shelters, Train Advertising, Bus Branding, Auto or Cab Moving Ads, Pole Signage, Metro Pillar Boards, Digital Billboards, Dooh, Airport Media and more – that are Sure to Meet Your Outdoor Advertising Requirements.
Our Extensive Pan India Level Outdoor Campaign Associations with IPL, Pro Kabaddi, PBL, Pro Volleyball League, Poker Sports League, WBF and BCCI coupled with our Outdoor Media Plans Offer an Unparalleled Coverage Across the Markets.
Out of Home Online Booking
[/vc_column_text][vc_row_inner][vc_column_inner width="1/2″][vc_column_text]
WE SPECIALIZE IN OUTDOOR MEDIA ONLINE BOOKING SERVICES OF : 
Hoardings Advertising Services
[/vc_column_text][/vc_column_inner][vc_column_inner width="1/2″][vc_column_text]
[/vc_column_text][/vc_column_inner][/vc_row_inner][/vc_column][/vc_row]